Will Cashier-Less Technology Stick in the Grocery Game?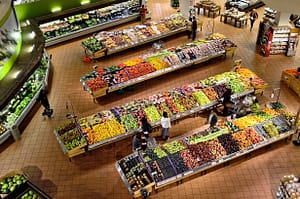 Amazon is constantly spearheading the retail industry. In the recent past, their strategic business moves have stood as pivotal points in retail's evolution. This global giant changed the game with their speedy shipping possibilities, global accessibility, and omnichannel branding. Competitors are constantly kept on their toes as they race to keep up.
Amazon Go, the company's latest innovation, is probably the most impactful to the omnichannel paradigm. These are brick-and-mortar stores which are 100% automated, meaning no people work there. It even goes a step further – they're cashier-less. Aside from being completely tech-powered, they also skip the entire physical payment process.
This took modern tech innovation to a completely new level. Amazon Go has elevated the game, and competitors continue to fit themselves into this new business scheme. Now that it's been successfully delivered to clients, it's spreading like wildfire. Brands are applying this tactic across all boards, and it's just entered the sphere of groceries.
Will it last – or be quick to pass? Let's get some more insight on the topic and its relevance for contemporary grocers.
Paving the Way for Others
Amazon Go garnered tons of brand fame, but it also benefited other retailers in an incredibly valuable way. The automated shopping locations were guinea pigs for retail as a whole, giving consumers a real-life chance to try out the concept.
Studies from Digital Third Coast for SchorrPackaging Corp. polled 1,000 US consumers on their opinions of the new cashier-less shopping options. The results revealed the experiment's success as they were incredibly positive.
75% of respondents said they were highly likely to shop at an Amazon Go, and 84% said they enjoyed the cashier-less experience more than a traditional checkout. Even more interesting, more than a quarter of the respondents said they would pay more for groceries to avoid checking out.
Zippin – The First Active Competitor
Zippin is a San Francisco based tech startup that fearlessly jumped into the cashier-less game; but with a twist – they sell groceries. Their shoppers don't wait in any lines, they simply pick up their food and go.
Zippin's CEO Krishna Motukuri shares on their motivation to test out this new business sector."With annual sales of grocery stores, convenience stores and quick-serve restaurants totaling nearly $1.6 trillion in the U.S. alone, we believe there is a sizable market opportunity for us to pursue."
Potential to Grow
Although Zippin is the first company to embark on this brave journey behind Amazon, experts are expecting the trend to gain momentum. The CEO of GK Software USA, Michael Jaszczyk, believes it's on the rise. "I fully expect this trend to take hold in due time, as their momentum is only limited by retailers' cautious approach and need to ensure a frictionless transition. The technology itself is ready for the mainstream," notes Jaszczyk.
However, he ushers a word of caution for other sectors, saying "Retailers must also keep in mind that this technology might not be something for all retail formats. For example, processes for weight-based items, age verification and capturing product numbers are challenges that must be solved." But, it won't be long until technology solves these problems, too.
What do you think about the cashier-less experience?