Welcome our new agent, Andrew!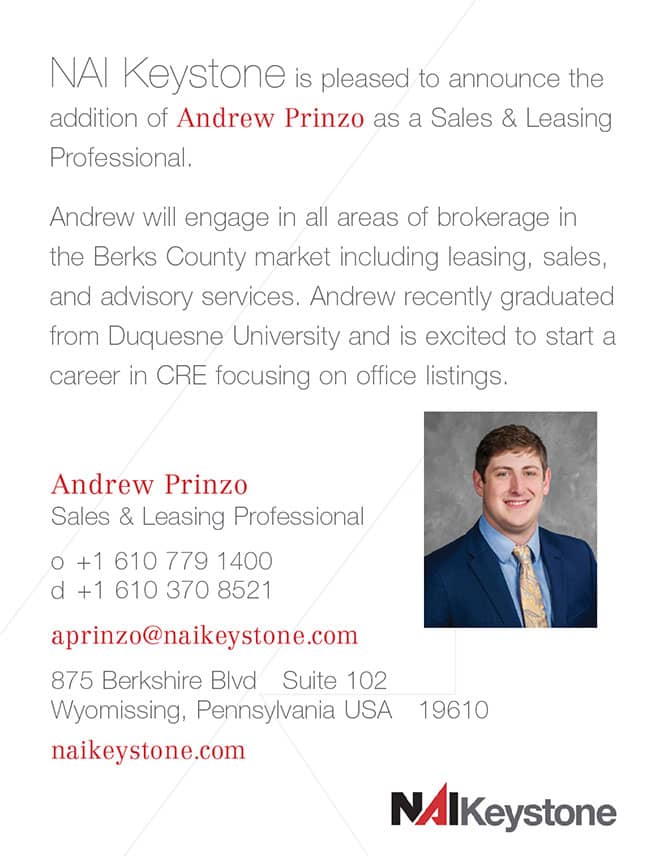 Get to know our newest NAI Keystone family member, Andrew Prinzo:
Q: Where are you from/how long have you been in the Berks County area?
A: I moved to Berks County in 2000 when I was a child and still live in Exeter Township today.
Q: What is your background/interest in?
A: I received my bachelor's degree from Duquesne University in Pittsburgh, PA where I majored in business management and minored in marketing. I am most interested in learning more about and working on office listings.
Q: What are you most excited about learning while with NAI Keystone?
A: I am most excited about learning the various factors that make each property unique.
Q: What do you like to do in your free time?
A: In my free time, I enjoy playing ice hockey or golf.
Q: If you could travel anywhere in the world where would it be and why?
A: I would travel to Australia. I had travelled there 12 years ago and I loved it. Ever since that trip I have always wanted to return and spend more time in Sydney, Melbourne and Brisbane.
Andrew will engage in all areas of brokerage in the Berks County market including leasing, sales, and advisory services. Andrew recently graduated from Duquesne University and is excited to start a career in CRE focusing on office listings.
Welcome, Andrew! We look forward to working with you and helping you grow your career in CRE!