Welcome, Andrew!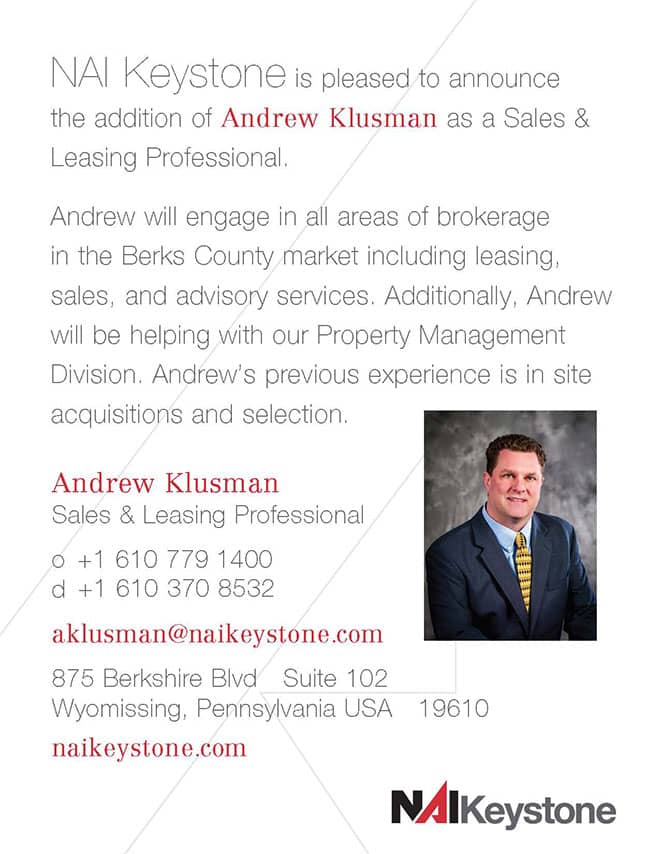 Get to know our newest NAI Keystone family member, Andrew Klusman:
Q: Where are you from/how long have you been in the Berks County area?
A: I was born in East Falls, a section of Philadelphia and raised in Montgomery County, Willow Grove. I have lived in the Berks and Chester counties the last 5 years.
Q: What is your background in?
A: I have previously worked doing net asset properties site selection and leasing, at CPM/GreenPro as a property maintenance owner & operator and as an Inventory Manager for Wawa doing remodeling and new store openings.
Q: What are you most excited about learning while with NAI Keystone?
A: I am excited for the opportunity to learn more about property management and looking forward to working with national and local businesses in bringing fresh and innovative ideas to the community.
Q: What do you like to do in your free time?
A: In my free time, I enjoy doing outdoor activities like tennis, biking and hiking.
Q: If you could travel anywhere in the world where would it be and why?
A: I hope to visit all our National Parks.
Andrew will engage in all areas of brokerage in the Berks County market including leasing, sales, and advisory services. Additionally, Andrew will be helping with our Property Management Division.
Welcome, Andrew! We look forward to working with you and helping you grow your career in CRE!