Viewpoint – In office space market, seeing signs of growth after a sluggish 2011 – Reading Eagle
Published May 29, 2012
Viewpoint by Bryan Cole
In 2011, the greater Reading office market saw the same kind of sluggish activity that characterized 2010, although slightly more space was leased than became available last year. That trend, known as positive absorption, was mainly due to the majority of tenants maintaining their space rather than reducing or relocating. Companies were nervous about making decisions on moving, so some tenants took advantage of the low rates in the market and tenant incentives to extend their lease terms or slightly increase their footprints.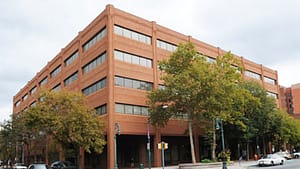 The renewals included The Travelers insurance group, which renewed its lease on Berkshire Boulevard in Wyomissing for about 60,000 square feet, and STV Inc., which renewed its lease of 50,000 square feet on Welsh Drive in Amity Township.
New developments slowed in 2011, with only a few facilities being built. That included the 33,000-square-foot speculative project at The Wyomissing Corporate Campus and Reading Hospital's new medical office building in Cumru Township.
Bryan Cole, with Keystone Commercial & Industrial , LLC
Activity did pick up in the fourth quarter and into this year. There are new and existing tenants accounting for about 200,000 square feet circulating the market, either looking to move into the county or relocate from the existing facilities within the county.
Although the level of activity has jumped, there also have been recent reports of major tenants vacating large blocks of contiguous space or looking to sublease their space. CNA is looking to close down or downsize its Reading facility, which contains approximately 260,000 square feet. Teleflex is marketing its 60,000 square feet for sublease at 1 Meridian Blvd. in Spring Township. IMS Healthcare is reducing its local footprint. And Sovereign Bank continues to try and sublease its 57,000-square-foot office building on Berkshire Boulevard.
Overall, the past year showed a slight decrease in suburban Class A building vacancy rates, which started at 12.4 percent in late 2010 and closed 2011 at 12.2 percent. That was mostly due to a new facility for the Reading Hospital Medical Group, along with companies increasing their footprints at 1 Granite Point and 1105 Berkshire Blvd., both in Wyomissing. Class A buildings typically have been a safe sector in the marketplace because of low inventory; however, with new developments coming online and companies still looking for lower rents, demand has been headed down.
For Class B space in 2011, vacancy rates decreased slightly and rental rates increased slightly.
Downtown Reading has seen some new deals consummated, like the renewals of the United Way of Berks County and the Spanish Speaking Council of Reading and Berks County, although these were lease renewals and not expansions. Buildings that have seen vacancy for some time, including 645 Penn St. and 501 Washington St., are starting to show some signs of hope due to ownership changes and new management. Owners and tenants are continuing to struggle with high parking costs and security concerns, and the city is trying to address those.
City vacancy rates increased in late 2011, with much of the vacancy surrounding large blocks of contiguous space.
Downtown vacancy rates will increase if CNA follows through with its plan to vacate its facility at 401 Penn St. Even if it stays, the company will occupy only 80,000 square feet of the building, so the impact will be felt. One positive note for the city: A building at 525 Lancaster Ave. was purchased by a developer who plans to convert an abandoned 110,000-square-foot office building into apartments.
More broadly, economic-development groups have made some significant progress in the number of projects under way or completed. The Imax theater and the addition to Reading Eagle Company headquarters are welcome entrants to the market. They kick off a multimillion-dollar Penn Street Corridor project that includes a new $67 million Doubletree hotel and garage project across from the Sovereign Center. Officials hope the projects will help attract more restaurant and entertainment activity and ultimately help bring tenants back downtown while decreasing vacancy rates and increasing the tax base.
Deals will happen because landlords are reacting to current market conditions. Companies are getting favorable incentives, such as introductory rates, rent abatements and additional tenant improvements. Landlords are offering tenant improvements and incentives to keep their existing tenants.
There is reason to be optimistic about 2012.
Bryan Cole is a broker for NAI Keystone Commercial & Industrial LLC in Exeter Township.
For More Information about Local News, Market Intel, or Commercial Real Estate Opportunities; visit www.Bryan-Cole.com
Bryan E. Cole | NAI Keystone Commercial & Industrial, LLC
direct: 610-370-8502
Bcole@naikeystone.com  |  Check out my new website at www.Bryan-Cole.com
About Bryan Cole and NAI Keystone
Bryan joined NAI Keystone in early 2004, but before joining NAI, Bryan Cole spent 4 year's active duty in the United States Marine Corp, including a 6 month deployment in Afghanistan, a 4 month deployment in Kuwait/Iraq, and a 7 month deployment in Japan. Prior to joining the military Bryan was involved in the construction of commercial and multi-unit properties in the Philadelphia suburbs. Bryan has experience working with a diverse group of individuals in numerous countries throughout the world. During Bryan's time at NAI, he has sold and leased well over $230 Million Dollars worth of Commercial Real Estate. Because of this, Bryan earned NAI gold club status his first year in the business. Bryan is currently working on earning both his CCIM designation and SIOR designation. Bryan has been NAI Keystone's Top Performer since 2006.
NAI Keystone is a full service commercial and industrial real estate firm located in Reading, Berks County.  NAI Keystone manages and handles approximately 4 Million square feet of commercial and industrial space in Berks and Schuylkill County.  NAI is the only firm in Berks County dedicated to strictly commercial real estate.  www.Bryan-Cole.com.
610.779.1400 (o) | 610.779.1985 (f) | 3970 Perkiomen Ave, Suite 200, Reading PA 19606