Suburban Office Market Overview: by Bryan Cole of NAI Keystone
Suburban Office Market Overview – 4th Quarter 2012:  by Bryan Cole of NAI Keystone
The Greater Reading Suburban Office Market ended the 4th quarter 2012 with a vacancy rate for Class A Office buildings at 18.5%.  This is a slight increase in vacancy rates from 3rd quarter 2012 and an increase in vacancy from same period 2011.   The average rental rates remained steady at $16.00  – $19.50 per square foot Modified Gross which is a slight decrease to the rates from the same period 2011.
Deals of primary focus within Class A building sector were the 48,000 sf National Penn Bank location proposed at the Spring Ridge Corporate Center, which will be leased 100% to Nat Penn, and the new Fairfield Inn proposed along Meridian Blvd., is assisting to reduce the office vacancies by approximately 113,600 sf.  The Fairfield Inn is purchasing three proposed office pad sites at 3 Meridian Blvd.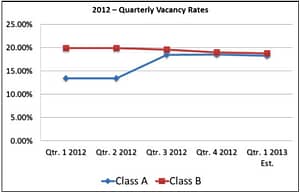 The Class B Suburban office market ended the fourth quarter of 2012 with a vacancy rate of 18.98%.  This is a decrease in vacancy from 3rd quarter 2012 by less than one percent, however it is an increase from the same period 2011 by almost four percent.   The average rental rates remained unchanged from 3rd to 4th quarter 2012 at $11.00 – $16.50 per square foot modified gross opposed to that of rates from the same period 2011 which was $13.00 – $18.00 per square foot.
Deals of primary focus within the Class B building sector were the new leases at 975 Berkshire Blvd. of 5,000 sf, and Stonepointe Center at 10,550 sf along with the recent purchase of 30,966 sf at 6 Commerce Drive by Brentwood Industries.
And the Class C Suburban office market sector ended the 4th quarter of 2012 with a vacancy rate of 10.97% which was an increase from the 3rd quarter 2012.
Our outlook for the office market going into 2013 is very optimistic with activity levels at new highs within the market place and owners offering additional incentives and concessions to assist in getting deals done.
by Bryan Cole of NAI Keystone
Click Here to go to my office reports, including Suburban 4th Quarter.
Bryan Cole |  NAI Keystone Commercial & Industrial, LLC
610.779.1400 x 8502
Who is Bryan Cole:
Bryan joined NAI Keystone in July of 2004, prior to joining NAI, Bryan Cole spent 4 year's active duty in the U.S. Marine Corp, including a 6 month deployment in Afghanistan, a 4 month deployment in Kuwait/Iraq, and a 7 month deployment in Japan.  Prior to joining the military Bryan was involved in the construction of commercial and multi-unit properties in the Philadelphia suburbs. Bryan has experience working with a diverse group of individuals in numerous countries throughout the world. During Bryan's time at NAI, he has sold and leased in the excess of $290 Million Dollar's worth of Commercial Real Estate. Because of this, Bryan earned NAI gold club status his first year in the business. Bryan is currently working on earning both his CCIM designation and SIOR designation. Bryan has been the Top Performer/Producer at NAI since 2006 with an average of $30-$35 Million in production annually and over $64 Million in 2012.
For additional information please visit http://www.Bryan-Cole.com or email us at Bcole@naikeystone.com