Stonepointe Center being Represented by NAI Keystone
NAI Keystone's Bryan Cole and Steve Willems have been retained to exclusively handle the leasing of the Stonepointe Corporate Center in Muhlenberg Township.  Full address is 2525 N. 12th Street, Reading PA 19605.
The facility is a mixed use building with both Office and Industrial Capabilities. The industrial has multiple dock positions (or ability to add), on both levels. The facility has 17'6″ clear height on 2nd level with 15′ on 1st Level. The building is ideally suited for Bulk Warehouse, Fulfillment, or manufacturers.
The office is ideally suited for Back Office operations, Data Center users, or smaller local groups looking for as little as 3,000 sf. with the ability to service customers up-to 100,000 sf.
The building is fully sprinkler-ed and has 69Kv power supplied by First Energy and a 12,000 amp service.. Due to the proximity of the offices, the space can be delivered with high or low office vs. warehouse ratios.
The building offer a large surface parking field, various points of access.
Other Highlights
– Over 200,000 sf. of Office for Lease
– Over 430,000 sf. of Industrial for Lease
– On-Site Management
– 69 Kv Power with 12,000 Amp service
For More Information visit www.OurStonePointeCenter.com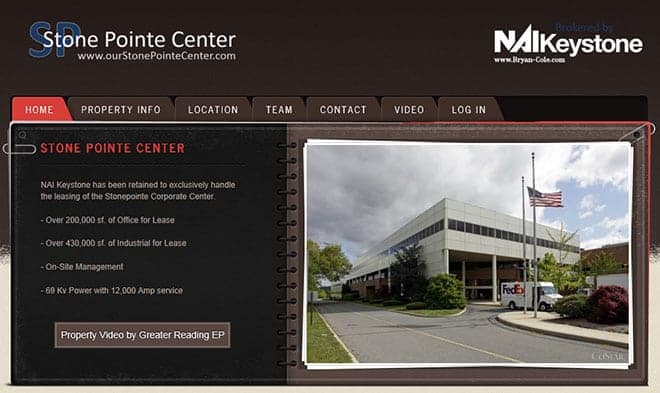 Don't forget to visit www.Bryan-Cole.com or my clients/members site at www.NAIKeystoneMembers.com
Bryan Cole, SIOR | Sr. Associate
NAI Keystone Commercial & Industrial, LLC
3970 Perkiomen Ave, Suite 200
Reading, PA 19606
www.Bryan-Cole.com or www.WyomissingOfficeSpace.com
Direct +1 610.370.8502 | Main +1 610.779.1400 | Fax +1 610.779.1985
Blog | LinkedIn  | Twitter  | Main Website | Office Space Site