Self-Serving Kiosks Boost Consumer Spending: A Win For Retail?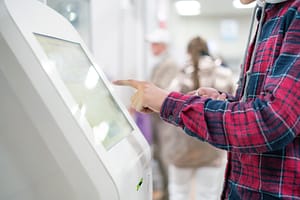 Don't let the negative headlines fool you – the retail industry is on the rise. One of the greatest contributors facilitating the global revival of retail is technology. The development of tech tools and services quickly turn never-before-seen possibilities into reality.
One of today's most revolutionary retail concepts is the self-serve kiosk. These are retail spaces which are fueled by AI, IoT, and Smart devices; and they're pushing the boundaries of client-interactions. Let's explore this concept and its impact on the retail industry.
Consumers Love Self-Serve Kiosks
Technology can do things that human-serviced systems cannot. Modern techs capacity to record, analyze, interact, and predict outcomes gives retailers an incredible business advantage. This self-serviced technology uses extensive data to provide intuitive services that create a personalized experience for users.
One example is CaliBurger's 2017 AI-powered facial recognition system, which identified customers at self-serve kiosks and consulted their unique client profile to individualize their experience. Tech-powered strategies cater to the expectations of convenience, ease, and individuality that today's consumers crave. CaliBurger isn't stopping there – they plan to implement a facial-recognition payment method this year.
Besides the royal treatment provided by self-serve kiosks, they're also quick to deliver. Using mobile and tech solutions, retailers and restaurants can improve their client experience by providing faster service. They cater to today's consumers' craving for instant satisfaction, which all contemporary businesses are trying to do. These systems expand the idea of omnichannel into a perfect combination of online, mobile, and in-store availability.
The Trend's Positive Effect on Retail
Self-serve kiosks are delivering major results for the retail industry. In 2016, self serve kiosks generating a whopping $218 million, and experts anticipate that US self-serve kiosks will increase 7.2% through 2021. This is huge, demonstrating that the self-serve concept is booming throughout the country.
On top of this, the PYMNTS Kiosk and Retail Report: Food and Beverage Edition showcase a 30% increase in consumer spending from using self serve systems. There are many causes to this boost, but the overall success comes from consumers' love for AI implementation in business.
 What's Next for the Retail Industry?
 Retail is changing fast. Brands are constantly striving to use all the available tools to provide their clients with new and exciting features. The expansion is happening every day, and there's no telling what will come next.
 One thing that's for certain is that the blending of technology into retail will keep on expanding. Today's shoppers love technology, data, smart devices and AI; and they're comfortable seeing it used in stores. As a result, retailers are forced to meet commonplace expectations that demand technology to optimize the shopping process. Self-serve kiosks are moving towards becoming fully-automated stores, such as Amazon Go.
These industry-shaking developments are changing the face of contemporary retail, and CRE is needing to keep up. As retail assets require advanced technological infrastructure, landlords and developers need to revamp their listings. Providing the necessary spaces that modern retailers want means tending to today's shoppers' wants – nearly as much as brands do.
What retail trends are you watching?