New Website Launch for www.Bryan-Cole.com
Bryan-Cole.com a commercial real estate website concentrating within the office/medical and industrial real estate sector of Greater Reading Pennsylvania has been completely revamped to allow for easy property searching, marketing intelligence review, and easy access to our services.
Please check out some of the main highlights via the links below; we encourage your feedback and appreciate the comments we have already received.
Main Page:  http://www.Bryan-Cole.com
Market Intel: http://www.bryan-cole.com/market-intel.html
Publications: http://www.bryan-cole.com/publications.html
Our Services: http://www.bryan-cole.com/our-services.html
Don't forget to join our mailing list for up-to-date news, property listings, events, market reports, property reports, and our newsletters.  http://www.bryan-cole.com/join-our-mailing-list.html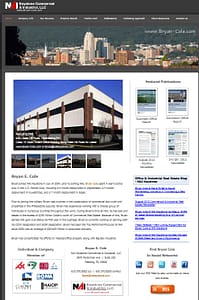 Bryan E. Cole | NAI Keystone Commercial & Industrial, LLC
direct: 610-370-8502
Check out my new website at www.Bryan-Cole.com
About Bryan Cole and NAI Keystone
Bryan joined NAI Keystone in early 2004, but before joining NAI, Bryan Cole spent 4 year's active duty in the United States Marine Corp, including a 6 month deployment in Afghanistan, a 4 month deployment in Kuwait/Iraq, and a 7 month deployment in Japan. Prior to joining the military Bryan was involved in the construction of commercial and multi-unit properties in the Philadelphia suburbs. Bryan has experience working with a diverse group of individuals in numerous countries throughout the world. During Bryan's time at NAI, he has sold and leased well over $250 Million Dollars worth of Commercial Real Estate. Because of this, Bryan earned NAI gold club status his first year in the business. Bryan is currently working on earning both his CCIM designation and SIOR designation. Bryan has been NAI Keystone's Top Performer from 2006 – 2011.
NAI Keystone is a full service commercial and industrial real estate firm located in Reading, Berks County.  NAI Keystone manages and handles approximately 4 Million square feet of commercial and industrial space in Berks and Schuylkill County.  NAI is the only firm in Berks County dedicated to strictly commercial real estate.
www.Bryan-Cole.com  | 610.779.1400 (o) | 610.779.1985 (f)