New 5,045 SF. Single Story Office Building for Lease in Wyomissing
NAI Keystone's Bryan Cole and Steve Willems have been retained to exclusively handle the leasing of 30 Commerce Drive, Wyomissing PA 19610
30 Commerce Drive is a single story free office building with approximately 5,045 usf. The building has a common vestibule, where the restrooms are currently located.
The building was previously occupied by National Penn Bank prior to their consolidation.
The suite is in very good condition, with higher end finishes. The suite currently has outer parameter offices, conference rooms, and interior bullpen type space.
Ideally suited for a variety of uses, including but not limited to Legal, Financial, or Medical.
30 Commerce Drive is situated in the Spring Ridge area of Berks County. The building is located within Spring Twp., and enjoys easy access to Rt. 422 and Rt. 222.
The buildings sits along Commerce Drive which is just off Broadcasting Road.
For More Information visit the link below.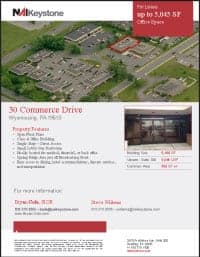 Don't forget to visit www.Bryan-Cole.com or my clients/members site at www.NAIKeystoneMembers.com
Bryan Cole, SIOR | Sr. Associate
NAI Keystone Commercial & Industrial, LLC
3970 Perkiomen Ave, Suite 200 Reading, PA 19606
www.Bryan-Cole.com or www.WyomissingOfficeSpace.com
Direct +1 610.370.8502 | Main +1 610.779.1400 | Fax +1 610.779.1985
Blog | LinkedIn  | Twitter | Facebook  | Main Website | Office Space Site