New 40,804 SF. Warehouse for Sale or Lease – Can expand to 80,000 SF.
NAI Keystone's Bryan Cole and Steve Willems have been retained to exclusively handle the sale or lease of 130 Redner Way in Ontelaunee Township.
The property is a 40,804 sf. Flex Warehouse with room to expand an additional 40,000 sf. The building was built-in 2003 and original planned for 80,000 sf.
The site is 9.80 acres and has a surface parking lot that can accommodate 158 cars and 12 trucks.
The building has 4 existing dock doors and the ability to add overhead doors with ease since it originally had Overhead doors prior to its renovations in 2006.
The building has a mixture of commercial/office and warehouse with ceiling heights of 9′ to 16′ in the office area and 22′ to 35′ in the warehouse. The column spacing is 46 x 54 in the warehouse. The building has a 1200 amp service with public water and sewer.
130 Redner way is conveniently located just off Rt. 61. The site is within fairly close proximity to I-78 and Rt. 222 which are both accessibility via Rt. 61 N/S.  The building is located in Ontelaunee Township which is a business friendly municipality.
For More Information visit the link below.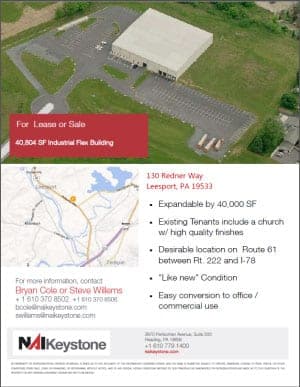 Don't forget to visit www.Bryan-Cole.com or my clients/members site at www.NAIKeystoneMembers.com
Bryan Cole, SIOR | Sr. Associate
NAI Keystone Commercial & Industrial, LLC
3970 Perkiomen Ave, Suite 200 Reading, PA 19606
www.Bryan-Cole.com or www.WyomissingOfficeSpace.com
Direct +1 610.370.8502 | Main +1 610.779.1400 | Fax +1 610.779.1985
Blog | LinkedIn  | Twitter  | Main Website | Office Space Site