Is Your Lease Expiring within the Next Two Years?
Now is the time to act!
A year or two may seem too far out, but if you lease commercial real estate the time to act is now. That's because the more proactive and prepared you are, the better positioned you'll be to make your next set of business-critical, lease-related decisions.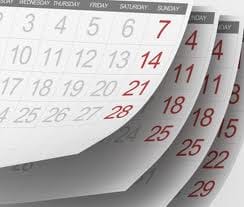 Waiting until your business is busting at the seams and in dire need of more space or waiting until you are on top of your current lease expiration date can not only be stressful, it can cost you time and money. It can also mean settling for a less-than-ideal facility and less-than-favorable lease terms.
It's almost never to soon to look ahead, define a strategy, and make time work to your advantage. Lean on my team and I which is comprised of experienced commercial real estate professionals that will work with you and chart a course of success.
We have worked with some of the Counties largest employers to assist in renegotiating their leases to not only save money on the rental rates, but to also increase the concessions, incentives, and overall business terms.  We help companies save on average 12-15% of their base rents not including Free Rent, Tenant Improvement Allowances, and other incentives.
Office, Medical, or Industrial – We are here to help.
Clients we have helped:
The Reading Hospital Medical Center
The Reading Hospital Medical Group
St. Joseph's Medical Group
Anderson Insurance Brokers
Regional Orthopedic
Southeast Diagnostics Inc.
Riverfront Federal Credit Union
Healthcalls
Weidenhammer Systems
Ethosource
Landis Logistics
and many more…
Allow us to work hand in hand with you and your firm; we look forward to the opportunity to be of service.  Bcole@naikeystone.com
For More information, please contact Bryan Cole and don't forget to visit www.Bryan-Cole.com
Bryan Cole
Sr. Associate
NAI Keystone Commercial & Industrial, LLC
3970 Perkiomen Ave, Suite 200 Reading, PA 19606
www.Bryan-Cole.com or www.WyomissingOfficeSpace.com
Direct +1 610.370.8502 | Main +1 610.779.1400 | Fax +1 610.779.1985
Blog | LinkedIn  | Twitter  | Main Website | Office Space Site