Humane Society of Berks Art for Arf's Sake Art Auction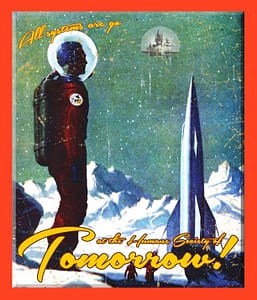 Take your protein pills and put your helmet on, then join us on Saturday, May 4th at the Sovereign Performing Arts Center in Reading as we reach for the stars at the 2013 Art for Arf's Sake Art Auction. We're celebrating all things futurist as we auction off the best submissions from regional and nationally known artists as well as a few surprises. All proceeds benefit the animals and programs of the Humane Society of Berks County, recognized as the leader in animal welfare from Giedi Prime to Alpha Centauri.
This may be our most important Art for Arf's Sake ever as we unveil The Humane Society of Tomorrow, a radical and sweeping revision of our animal-sheltering biodome and veterinary medical facilities here on Earth. Slated for a mid-May groundbreaking (that's right after the Auction), this cutting-edge facility will incorporate all that we've learned about animal welfare and veterinary medicine and help us to shape the care of animals in Southeastern Pennsylvania for years to come.
The auction will be your first opportunity to see the schematics for this new facility!
Art for Arf's Sake begins at 5:30PM in the spacious lobby and mezzanine of the Performing Arts Center, where our guests can enjoy live music and entertainment while perusing art destined for the auction block. At 7:00PM sharp, we'll open the theater for the Auction itself, where we'll be offering beautiful original and limited-edition pieces from local and well-known artists, famous folks in the world of science fiction, and unique items and experiences you'll find nowhere else. Throughout, you'll enjoy complimentary food and beverages from our sponsors, including beer and wine. Liquor and cocktails are available at a cash bar as well.
General admission passes to the most memorable event in the galaxy are just $40 per person, and you can reserve yours securely online by clicking here. If you'd like to do more to help the animals, we also offer Patron Packages beginning at just $150 with promotional benefits and admission to the exclusive Patron Preview Reception before the Auction, as well as reserved seating and wait service at the Auction itself.
To see some of the art that will be auctioned off to benefit the animals, click here. Check back often, because we update this page as art is submitted.
http://www.berkshumane.net/cms/index.php?option=com_content&view=article&id=214&Itemid=101
Bryan Cole
NAI Keystone Commercial & Industrial, LLC
www.Bryan-Cole.com