How is Virtual Reality REALLY Going to Impact CRE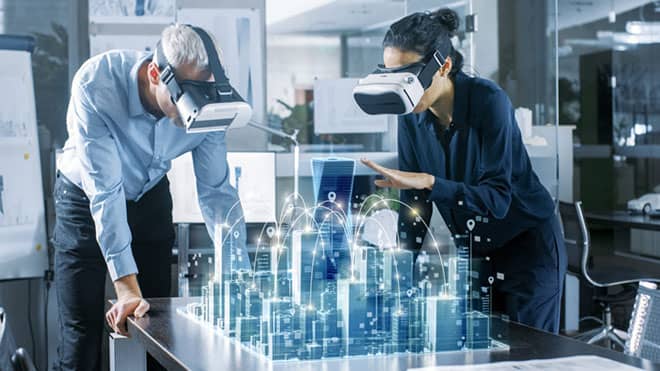 Male and Female Architects Wearing Augmented
Reality Headsets Work with 3D City Model.
Virtual reality ("VR") will create opportunities for everyone. In an excellent article on the topic by The Counselors of Real Estate (read it here), they explain how the use of virtual reality could change every aspect of deal making.
"One of the main uses of VR for real estate is marketing. While the cost of a virtual model may seem high to some, the cost can be offset through the reduction of other marketing spend, a reduction of holding costs by compressing the transaction cycle and accelerating cash flow, which also reduces the risk of closing. The model can also be repurposed for use in facilities, asset and property management. A VR model can save time and money in terms of making design decisions more quickly and avoiding mistakes during the build out of a space. Similarly, VR models can be used to facilitate and make planning meetings or economic development agency initiatives more accessible and efficient by putting models online to help make real-time changes, by any or all of the stakeholders."
"Transaction friction can also be reduced, as potential buyers or tenants can "see" a range of properties without having to travel to each location. Imagine the productivity gains over the course of a year from being able to see ten properties without leaving one's office in the time it would take to drive to and from just one property. The use of a VR model can also expand the market for buyers, as the entire globe is now able to see the property. Brokers are able to measure reaction in real-time via embedded audio and video capabilities. This also makes brokers more efficient, as they do not need to coordinate logistics for and host extensive property tours that undoubtedly will include properties that are not given any consideration by the client."
Let's take a deeper look at how VR is going to impact CRE.
You'll be able to visualize developments and properties in completely new ways.
We've seen this concept commercially with Lowe's VR design service, where a customer can see the color of paint in a room before they commit to it. "Developers will be able to complete showroom experience to local and remote clients that allows them to select their own finishes, furnishings and other amenities — before groundbreaking.
Buyers/tenants can instantly see themselves in the space the way they want it, creating the opportunity to shorten sales cycles and sellout periods as well as reduce holding costs," explains an article by The Counselors of Real Estate. One of the most profound ways they list that leasing brokers and owners will be able to "use VR tools to complete test fits of spaces for potential tenants in real-time, online or on site, without the need to wait for an architect." Property and asset management can utilize VR for property and space availabilities, occupancies, maintenance requests or records.
Virtual Reality expedites stakeholders' decision-making.
An article for Bisnow explains that "one of the biggest benefits of VR technology is that it enables owners, brokers and tenants to envision a potential master plan, building or interior space quicker and easier than ever before; the immersive experiences allow critical team members to make quick decisions and get the project moving."
In the article, GA director of virtual design and construction Michael Schroeder says that "with the VR technology, I can engage all the important stakeholders in the process on their own schedule."
"The technology allows the process to move forward at a quicker pace, enabling crucial decisions to get the consensus response they need. It's a vital step in saving time for all parties involved."
Virtual reality allows everyone to be in one place at once.
In CREtech's article about ways virtual reality is changing commercial real estate, they explain that "as foreign investments in U.S. properties continue to increase, being able to make deals remotely is imperative. VR technology allows brokers and agents to show a space to potential clients on the other side of the globe in real-time and as if they are actually walking through the space. Showings are no longer limited by space and time which is resulting in a limitless global base of potential clients.