Bryan Cole of NAI Keystone handle sale of 330 N. Wyomissing Ave. in Shillington PA
Location:
330 N. Wyomissing Ave., Reading PA 19607
Press Release:
NAI Keystone's Bryan Cole and Steve Willems handled the sale of 330 N. Wyomissing Ave in Shillington PA a 28,000 sf. Flex facility owned and operated by Goodwill Keystone for over 10 years.  The facility was vacated in 2012 due to Goodwill purchasing a larger facility for its use in St. Lawrence Twp. Berks County.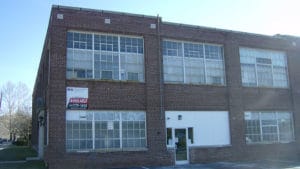 The property which was situated on 1.76 acres and included 28,000 sf. of building spread-out over two floors was purchased by Lausch's Moving Company which intends on utilizing the facility for its operations.
The building was in good condition and provided ample parking for Lausch's operations.
NAI Keystone was the sole broker in the transaction.  For more information about this sale, please contact Bryan Cole at Bcole@naikeystone.com.
Interested in this Market Comp? Contact Us

Who is NAI Keystone:
NAI Keystone is a full service commercial and industrial real estate firm. NAI Keystone maintains a prominent market share in Berks and Schuylkill Counties. NAI offers various services including but not limited to; Landlord representation, tenant representation, consulting services, site development, site selection, and property management.
Who is Bryan Cole:
Bryan joined NAI Keystone in July of 2004, prior to joining NAI, Bryan Cole spent 4 year's active duty in the U.S. Marine Corp, including a 6 month deployment in Afghanistan, a 4 month deployment in Kuwait/Iraq, and a 7 month deployment in Japan.  Prior to joining the military Bryan was involved in the construction of commercial and multi-unit properties in the Philadelphia suburbs. Bryan has experience working with a diverse group of individuals in numerous countries throughout the world. During Bryan's time at NAI, he has sold and leased in the excess of $250 Million Dollar's worth of Commercial Real Estate. Because of this, Bryan earned NAI gold club status his first year in the business. Bryan is currently working on earning both his CCIM designation and SIOR designation. Bryan has been the Top Performer/Producer at NAI since 2006 with an average of $30-$35 Million in production annually.
For additional information please visit www.Bryan-Cole.com or email us at Bcole@naikeystone.com
End of Press Release —
Bryan E. Cole | NAI Keystone Commercial & Industrial, LLC
direct: 610-370-8502
Check out my new website at www.Bryan-Cole.com
About Bryan Cole and NAI Keystone
Bryan joined NAI Keystone in early 2004, but before joining NAI, Bryan Cole spent 4 year's active duty in the United States Marine Corp, including a 6 month deployment in Afghanistan, a 4 month deployment in Kuwait/Iraq, and a 7 month deployment in Japan. Prior to joining the military Bryan was involved in the construction of commercial and multi-unit properties in the Philadelphia suburbs. Bryan has experience working with a diverse group of individuals in numerous countries throughout the world. During Bryan's time at NAI, he has sold and leased well over $250 Million Dollars worth of Commercial Real Estate. Because of this, Bryan earned NAI gold club status his first year in the business. Bryan is currently working on earning both his CCIM designation and SIOR designation. Bryan has been NAI Keystone's Top Performer from 2006 – 2011.
NAI Keystone is a full service commercial and industrial real estate firm located in Reading, Berks County.  NAI Keystone manages and handles approximately 4 Million square feet of commercial and industrial space in Berks and Schuylkill County.  NAI is the only firm in Berks County dedicated to strictly commercial real estate.  www.Bryan-Cole.com.
610.779.1400 (o) | 610.779.1985 (f)