Brentwood Industries purchases 6 Commerce Drive in Cumru Twp.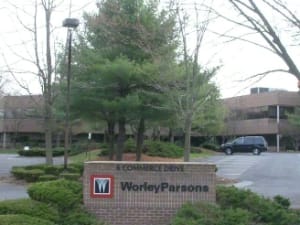 Brentwood Industries Inc. will expand its operations into 6 Commerce Drive, Cumru Township Berks County.
The building was home to various companies, with the most recent company being Worley Parsons.  The facility is a 31,000 sf. two-story office building located just off I-176 and Rt. 10.  The building was purchased at a sheriff Sale by Brentwood Industries who was in the market looking to either purchase an existing building or build a new facility.
The Article Below is from the Reading Eagle.
Brentwood Industries Inc. will expand its operations in Berks County with the help of a $2 million loan from the Pennsylvania Industrial Development Authority, Greater Berks Development Fund announced Wednesday.
The loan will assist in the Reading-based international plastics company's acquisition and renovation of a 31,000-square-foot corporate office facility at 6 Commerce Drive in Cumru Township.
The building, which Brentwood purchased Oct. 5 in a sheriff's sale, will house the company's water group, sales, engineering and operations functions.
Peter Pellicano, vice president of finance at Brentwood, said Wednesday that the acquisition of the facility will accommodate expansion as a result of continued sales growth for the company.
The employees and services that will move to the new location are housed at the company's two locations on Morgantown Road and Brentwood Drive.
Brentwood anticipates expanding its Berks County workforce by 30 jobs over the next three years, according to the news release.
The Commerce Drive building was built to house Horrigan American, said Christopher S. Witmer, director of project development with Great Berks Development Fund.
Witmer said the building has changed hands a few times since it was built, but has been vacant for some time.
For More Information about this sale or find other properties for Sale or Lease, Please Call Bryan Cole of NAI Keystone Commercial & Industrial, LLC
Post Courtesy of:
Bryan E. Cole | NAI Keystone Commercial & Industrial, LLC
direct: 610-370-8502
Check out my new website at www.Bryan-Cole.com
About Bryan Cole and NAI Keystone
Bryan joined NAI Keystone in July of 2004, prior to joining NAI,  Bryan Cole spent 4 year's active duty in the U.S. Marine Corp, including a 6  month deployment in Afghanistan, a 4 month deployment in Kuwait/Iraq, and a 7  month deployment in Japan.Prior to joining the military Bryan was  involved in the construction of commercial and multi-unit properties in the  Philadelphia suburbs. Bryan has experience working with a diverse group of  individuals in numerous countries throughout the world. During Bryan's time at  NAI, he has sold and leased in the excess of $270 Million Dollar's worth of  Commercial Real Estate. Because of this, Bryan earned NAI gold club status his  first year in the business. Bryan is currently working on earning both his CCIM  designation and SIOR designation. Bryan has been the Top Performer/Producer at  NAI since 2006 with an average of $30-$35 Million in production  annually.
NAI Keystone is a full service commercial and industrial real estate firm located in Reading, Berks County.  NAI Keystone manages and handles approximately 4 Million square feet of commercial and industrial space in Berks and Schuylkill County.  NAI is the only firm in Berks County dedicated to strictly commercial real estate.
www.Bryan-Cole.com  | 610.779.1400 (o) | 610.779.1985 (f)