6 Ways to Help Local Businesses Right Now  
Local businesses need community support now more than ever.
The coronavirus pandemic is making waves across all boards, but small businesses are taking the hardest hit. Local and national authorities are taking action to help alleviate the burdens associated with stay-at-home orders and state-wide shutdowns, but is it enough to keep these mom-and-pop staples afloat?
We're all hoping so, but the stakes are high. In the meantime, here are 6 simple action steps each of us can take to support local businesses right now.
 By E-Gift Cards For Loved Ones
 The coronavirus isn't getting in the way of any birthdays or holidays. A great way to support local businesses and celebrate your loved ones is by purchasing gift cards to your favorite small-scale shops and eateries.
It's a powerful way to funnel business in their direction and encourage sales beyond the gifted amount. Consider picking up a few $10 gift cards for friends and family to brighten up their day – and help support your top places.
 Check Out In-House Delivery Options
 If you've been regularly browsing Uber Eats, it might be a good idea to switch things up and spread your support elsewhere.
Ordering from meal delivery services like UberEats, DoorDash or Grubhub is a great way to stimulate the local economy, but it's actually costing the local eatery you're ordering from. These services usually charge the restaurant a fee and the business doesn't receive any delivery tip.
Next time, explore the available in-house delivery services to give your favorite spot an added bonus.
See Who's Fulfilling Online Orders
 Before you check out big-name brands for your essentials, see what small businesses have to offer.
This will help keep people at work and help them ride the COVID-19 wave. Plus, they surely need your business more than global giants like Amazon and Walmart. You'll still be getting what you need, but you'll be making a tangible difference in the process.
 Add a Staff Member's Meal To Your Tab
Have some extra money to spend? If so, consider adding a staff members' meal to your check next time you order take-out.
This is an action-based way that directly feeds someone who may be in need more than you'd expect.
Donate To Your Favorite Spots
 Whether it's your everyday cafe or a specialty shop you just can't live without, show your support by sending a virtual tip.
Many small businesses have set up ways that people can send donations to supplement employee income, cover rent costs, and keep them afloat. It's as easy as adding the business on Venmo or finding their Go Fund Me page via their website or social media.
 Join Their E-Community
 A free and easy way to support businesses is by becoming a part of their web communities. Keep up with the latest developments, shout them out on social media, and join in the conversation. Get active and spread the news – word of mouth recommendations pack quite a punch.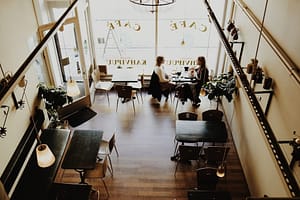 Showing your support may not seem like it's making much of an impact, but it's really what makes all the difference during these tough times. Support your local community, show you care, and spread the love.