5 Forward Thinking Tech Cities From Around the World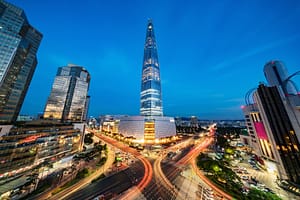 As technology continues to expand, the possibilities seem endless. What used to be thought of as mere science fiction is now a tangible reality, allowing us to live in ways we never thought were possible.
The world around us is slowly shifting into this new age, but there are a few places where the changes are happening fast. Smart Cities are popping up across the globe and they're standing as amazing examples of what's available to today's population. These destinations are using the latest innovative technology to create harmonious eco-friendly communities that cater to contemporary needs.
Here's a look at 5 forward-thinking cities that are totally changing the game.
Seoul, South Korea
Seoul is a global leader for smart living as it seamlessly interweaves technology into the city's scheme. The area already goes far beyond the average smart city with their tech-fueled public transportation system and the government's incredibly effective emergency warning system – but there's more.
One of Seoul's most impressive features is the self-charging roads, made possible by their advanced online electric vehicle technology (OLEV). There's virtual stores, highly advanced smart-towns, and more. Seoul marks the apex for contemporary smart cities.
Reykjavik, Iceland
Being Iceland's smallest city doesn't impede on Reykjavik's popularity. This city is the country's most populated area – and for good reason. Reykjavik is leading the way for environmental responsibility empowered by technological expansion.
All the buildings in this region are green by design since 99% of the city's electricity is fueled by hydroelectric and geothermal power. While this is already an amazing feat, Reykjavik has high hopes for the future. The area plans to become a fully-functioning city with zero carbon emissions by 2040.
Tokyo, Japan
As one of the globe's largest urban communities, Tokyo isn't falling behind in terms of smart technology. The city reigns supreme in the realms of urban planning, mobility, and applied technology.
Tokyo takes high-tech to a completely new level with its groundbreaking exploration of 3D and robotics. The area introduced advanced facial recognition technology, and also heavily invests in AI resources for hospitality, vehicles and mobility, healthcare, and financial services.
Paris, France
 Paris is one of Europe's top leaders in both technological and environmental initiatives. This popular global destination promotes clean transportation and mobility for both residents and tourists by providing bikes and electric vehicles.
Paris also uses IoT to optimize the traffic flows of people and traffic to help accommodate their average 40 million tourists per year. As a further improvement, The Grand Paris Express project will completely redesign the city's transportation system and features a completely automated metro train.
 Singapore, Southeast Asia
No place blends technology into daily life quite like Singapore. The island is fully encompassed in a line of fiber optics that spans the entire length and breadth of Singapore, factoring in up to three mobiles for every two citizens. Singapore has robotic hospitals, autonomous taxi drivers, and high-tech vertical gardens that self-water and regulate temperature.
After exploring these tech cities, you'll want to call them home. Which smart city is your favorite?