4 Ways Gen Z is Impacting the Retail Landscape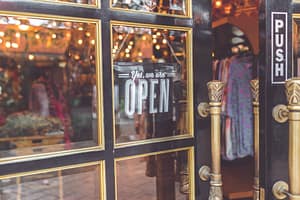 Despite what major retailers may have expected, the vast majority of Gen Z-ers (more than 3 out of 4) actually prefer to shop in physical brick and mortar retail stores. But it's not that simple —creating the right in-store experience is also crucial to success. From ensuring that items are kept in stock to creating unique and personalized experiences for shoppers, retailers can make a great impression on this highly sought after and coveted demographic.
It's also important to get the experience and the transaction right from the first interaction, as these particular shoppers may be less willing to give a second chance. Smart retailers are finding ways to marry their brick and mortar stores to the online world, and the results are speaking for themselves. But how else is Gen Z impacting the retail landscape?
Gen Z-ers expect —and demand —a seamless digital-to-physical experience
While Gen Z-ers prefer to shop in physical stores, they are also a generation that relies heavily on smartphones and other mobile devices. As a result, they expect easy and intuitive interactions with retail sites —and if they research an item online and then go to a store for purchase, they expect the item to be in stock and the transaction to be easy and seamless.
Gen Z-ers think about value over cost
Unlike the Millennials that came before them, Gen Z-ers are known for being thrifty and responsible with their funds. They will still support brands that they believe in, but they won't do so at the cost of their future. Gen Z-ers, having watched their parents struggle through the recession, are also more wary of credit and debt, choosing to live within their means and eschew relying on credit. Retailers must keep this in mind and price their goods and services accordingly.
Gen Z-ers are a driving force behind free shipping
While the demand for a shift to free shipping on all orders not exactly being a Gen-Z specific trend, this particular generation is definitely one of the larger driving forces behind free shipping becoming standard on all orders. In fact, NRFreports that 76 percent of Gen Z customers expect their order delivery to be free —even on orders that are less than $50.
Gen Z-ers are forcing retailers to quickly adapt to trends in social media
In order to reach this important demographic, smart retailers are realizing that they must become more tech-savvy and present on social media. Of course, before this can happen, retailers must first understand which social media platforms Gen Z-ers are using. Stores Magazine recently reported that 44 percent of Gen Z shoppers use Snapchat while shopping in-store, compared with only 16 percent of Millennials (and 5 percent of Gen Xers). And don't count outInstagram and Facebook just yet, with 45 percent and 40 percent of Gen Z shoppers relying on these platforms (respectively) to find new products and meet new brands.